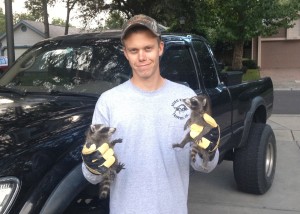 At Animal Wildlife Trappers, we always start our process with a free property inspection and estimate. A representative from our company will visit you at your property in order to provide a full assessment of your problem. This complimentary visit includes a thorough inspection of the exterior of your home, roof, attic and crawlspace in order to determine the specifics of your intrusion. From there, your trained inspector will prescribe a solution using industry-leading humane techniques and our own system of technical protocols to solve your problem.
Over the past 10 years, Animal Wildlife Trappers has established itself in the industry by providing over 9,000 customers with professional and dependable service with fair pricing.
Our pricing is not based on the size of your home or where you live (like many of our competitors) but on the actual work that needs to be done and the number of entry points that need to be sealed to fix your problem. Our services are custom-tailored to your property's needs and backed by an industry-leading guarantee.
If animals re-enter your home during your warranty period, Animal Wildlife Trappers will return at no additional charge to remedy the problem at no additional charge. In most cases, we are able to provide our customers with a 3-year guarantee.
Expert Animal Removal in Orlando, FL
We always let property owners know that it's never recommended for them to handle wildlife on their own. Even a raccoon could appear quite adorable and harmless, but there are reports of them attacking humans. When they feel threatened, they can attack and wreak havoc on your property as a form of self-defense. This becomes especially difficult when these animals are found indoors, more so when you have children and pets.
If you're located anywhere in Central Florida, including areas in Orlando, Maitland, Longwood, Winter Park, Deltona, Sanford, and more, Animal Wildlife Trappers is the company to call. Our team is ready to assist you, to get a free estimate or to have someone come to your property right away, call us at 352-267-0546.