Animal Removal & Trapping Services
We protect you, your assets, and Florida's wildlife.
Animal Wildlife Trappers, Inc. is a family-owned and operated wildlife trapping and animal removal company. We specialize in animal apprehension and removal. We also assist in repairing damages caused by wildlife. Whether you are dealing with rodents, squirrels, raccoons, or opossums, we will quickly and efficiently resolve the nuisance and keep them at bay for the long haul.
We strive to be Florida's finest nuisance wildlife management firm through first-rate customer service and effective animal trapping and removal services. Importantly, we develop relationships with our customers and educate them on preventative measures for the benefit of both man and animals.
Animal Removal Services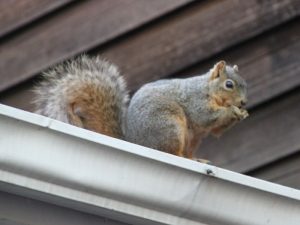 Our team at Animal Wildlife Trappers has decades of experience performing animal removal and animal entry-proofing services. There is no job too big or too small, and no animal we can't handle! Our animal removal specialists have removed every type of friendly, furry critter that you can imagine in both residential and commercial properties, including the following:
Free Animal Intrusion Inspections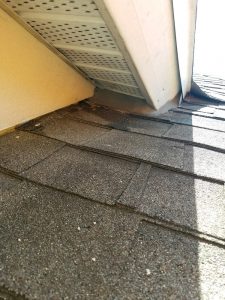 Are you hearing a noise in the attic? Are you seeing evidence of unexplained home deterioration? We'll give you peace of mind at no cost to you with our free animal intrusion inspection.
We will come and investigate at no charge to you. Animal Wildlife Trappers, Inc. will quickly visit your home or business to uncover any uninvited visitors from the outdoors. We begin the inspection process by identifying the type of animal invading your space and causing damage or a threat to your safety.
Once we have identified the type of wildlife, we will efficiently trap and remove it without any disruption to your home or business.
Finally, we will perform repairs to your damaged property and safeguard your home or business from any further wildlife invasions.
Animal & Wildlife Trapping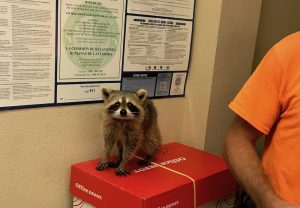 We employ a number of humane and efficient tactics for trapping wildlife depending on the nature of the animal and the situation.
Has a family of raccoons made a home in your attic? Is your backyard being overrun by a rat or opossum? Despite their size, wildlife like rats and squirrels can be a nuisance and cause significant damage; however, these are two of the biggest culprits when it comes to disruption and damage.
Animal Wildlife Trappers, Inc. takes great care and pride in our safe, non-invasive, and humane animal removal from the home or commercial setting.
Importantly, we are not a pest control company nor do we use poisons to trap and remove Florida's wildlife. We strictly adhere to Florida's animal trapping laws as well as the Fish and Wildlife Commission's guidelines for the treatments of wildlife. Ultimately, we remove the wildlife quickly and efficiently while respecting the safety and integrity of the animal and your home or business.
Animal & Wildlife Removal
They may appear to be non-threatening from afar, but just think of the damage wildlife can cause to your property.
We employ responsible, environmentally friendly techniques for removing wildlife from your property.
Dead Animal Removal
In many cases, home and business owners become aware of an intruder after the animal has passed on. In these circumstances, The Animal Wildlife Trappers will quickly come and remove the dead animal from your property without any interruption to your day. In addition, we will investigate how the animal breached your home or business to prevent future wildlife invasions.
Pest Animal Damage Repair
Once they're out, we keep them out.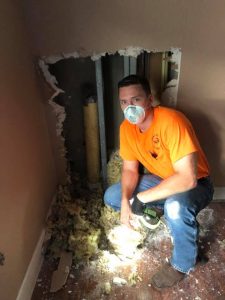 Our professionals specialize in patching and sealing up areas that have been compromised or provide a potential entryway for wildlife. Vulnerable areas on your property include (but are not limited to):
Roof vents
Roof returns
Pipe stacks
Goose neck vents
Open Air Condition chase
Gaps in siding
Loose soffit screens
Chew holes
Or any number of areas exposed to the outdoors
Our job is to find those areas before the wildlife makes a home in yours. Once these areas are identified, our repair professionals close off the gaps using steel flashing, rodenticide deterrent, and special sealants. Our professionals are experts in repairing compromised entryways for uninvited visitors. These repairs are intended to keep wildlife out for the long term.
Attic Cleanup & Decontamination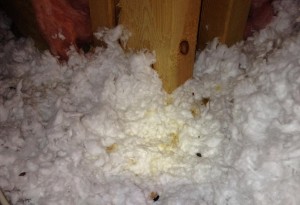 The attic is a space for storage, not a raccoon condo.
While it traps heat for your home, attic insulation also makes the perfect nest for unwanted wildlife. Once an animal has entered the attic, it has likely left its mark. In many cases, animals invading an attic or crawl space will leave behind:
Urine and feces which becomes absorbed into the insulation
Debris scattered throughout the area
Pheromone scents that can attract more wildlife
Parasites, fleas, and other pathogens
Odors that make their way throughout the rest of your property
Animal Wildlife Trappers will restore your attic to its original condition through a thorough decontamination process involving vacuuming, removal or restoration of insulation, and a medical-grade disinfectant/deodorizer spray. Our attic sanitation service involves a disinfectant process that is safe and effective. It quickly destroys what the wildlife has left behind without impacting the structure of your home or building.
Animal Entry Proofing (Exclusion)
Animal Entry Proofing done right the first time will save you money and headaches in the future.
Animals can seek entry into your home or business through a number of different locations on your property. Particularly during the seasonal changes, animals will often take shelter in unexpected places such as the basement, garage, attic, chimney, or even the walls.
Our professionals can quickly identify areas that have been exposed or potential locations throughout your property that are vulnerable to wildlife intrusions. We are extremely familiar with the biology, habits, and capabilities of Florida's wildlife and can pinpoint areas that will attract visitors from birds and bats to raccoons and opossums. Each has its own tactic for entering inviting spaces, and we are experienced in keeping them out for good.
24/7 Emergency Calls
When an animal threatens your safety or could quickly cause significant damage to your home, we will be there without hesitation.
Unwelcome wildlife can leave people feeling extremely vulnerable, particularly when the animal is fearful, overwrought, and stressed. This only increases the risk of a dangerous situation for both the homeowner/business owner and the animal. We are highly experienced experts who manage these situations with skill, patience, and respect for your property and the well-being of everyone involved.
The Animal Trappers respond 24/7 to emergency calls throughout the Central Florida area.
Nuisance Animals, We Control.
Animal Wildlife Trappers offers animal removal services in Orlando, Maitland, Longwood, Winter Park, Sanford, Lake Mary, and many other nearby communities. For a free quote, please call us at 352-267-0546.