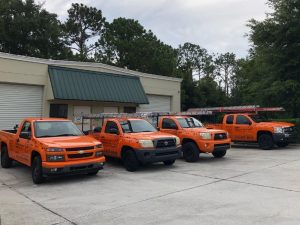 Winter Park, FL is known for its beautiful architecture, shops, and homes. Locals and tourists aren't the only ones that enjoy it. Because of the gorgeous weather and natural scenery, wild animals are abundant in the area. But when they go looking for food and shelter, their instincts might not prevent them from searching inside your home or business. As a team of licensed animal removal contractors, we're trained to eliminate all kinds of wildlife issues. You can reach out to us to address your animal suspicions or solve your emergency animal situation.
Winter Park, FL Raccoon Removal Services
Raccoons are common carriers of rabies, but that's not the only reason these critters are a danger to your property. In their fur, raccoons carry mites, fleas, and parasites. On top of that, their droppings are incredibly dangerous and can carry toxic bacteria. That's why it's important to only allow professionals to take care of a raccoon problem in your home or place of business. At Animal Wildlife Trappers, we understand that these animals deserve respect and care, which is why we handle them with humane removal services.
Squirrel Removal Services in Winter Park, FL
Rampant in Winter Park, FL, squirrels are always jumping from place to place. Even though these animals are excellent climbers, they get stuck in chimneys and attics more than you might think. If this happens to you, our staff at Animal Wildlife Trappers can quickly take care of the problem and safely remove squirrels that are in your residence or business.
Animal Entry Proofing Services
There are so many areas of your property that could be vulnerable to animal entry. To safely keep critters from being able to enter, we provide animal entry proofing inspections to help you identify areas that need repair or extra protection. We'll also design a prevention plan built specifically for you and your budget.
Animal Removal Experts in Winter Park, FL
There are plenty of ways to go about handling an animal issue on your property, but professional services will give you the best results when you need them most.
To get a free estimate for your home or business, call Animal Wildlife Trappers at 352-267-0546.