Wildlife Removal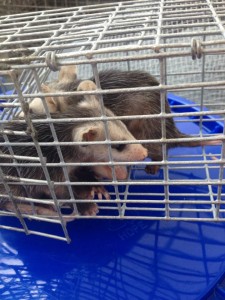 They may appear to be non-threatening from afar, but just think of the damage wildlife can cause to your property, or even worse, the threat they might pose to your family and neighbors. So wildlife removal in Orlando and the surrounding Central Florida communities must be handled with extreme caution!
Trapping and removing wildlife is not a do-it-yourself job. Our experts have vast experience with individual wildlife species and understand the risks involved in removing wild animals safely. In fact, trapping and removal is not a simple task.
There are a number of types of traps and methods for baiting, placement, and settings that must be taken into consideration in order to effectively remove wildlife from your property. The risks are too great for you and the animal to handle the issue without professional experience, and attempting this on your own can have serious consequences.
Florida State Wildlife Regulations
Once the animal is trapped, there are very strict guidelines in the state of Florida concerning how the animal is removed and dealt with. Animal Wildlife Trappers will promptly address the type of animal causing an intrusion on your property and effectively trap and remove it in accordance with Florida law. We are experts in the wildlife removal law, and will perform every phase of the process with care and expertise.

It is actually possible to get into legal trouble if you take things into your own hands and attempt wildlife removal on your own. So not only is there a risk of physical injury and damage to your property, but there is also a component of legal risk as well. So this is why the decision is a simple one…if you have wildlife in your home, around your home, on your property, or potentially encroaching on your property, call the professionals at Animal Wildlife Trappers.
Humane Wildlife Removal
At Animal Wildlife Trappers, our priority is not only to perform wildlife removal in accordance with state law, but equally important is to perform humane wildlife removal. We are in this business because we love animals, and have a passion for their co-existence on our incredible Mother Earth! So humane removal is a top priority on every job that we perform, and we always put the animal's best interest at the top of our list.
Humane removal of wildlife is not only the proper trapping and handling of the animal, but also knowing the best possible home for relocation. If not done properly, an animal might struggle in a new location. Our wildlife professionals have years of experience and expertise in knowing the very best relocation area that is best suited for animal. This is a big part of humane animal treatment, and at Animal Wildlife Trappers we go the extra mile to make sure we are relocating animals in the very best possible environment for them to thrive and live.
Call Animal Wildlife Trappers today at 352-267-0546 for a free quote for wildlife removal in Orlando FL and the surrounding communities. We service all of Central Florida, to include Orlando, Deltona, Clermont, Lake Nona, Lake Mary, Ocoee, Bithlo, Kissimmee, Sanford, Apopka, Hunter's Creek, Winter Park, Maitland, and the surrounding communities.
Wildlife Removal Services in Central Florida
Please find a brief list of wildlife removal that we can assist you in removing from your home or property: