Why Hire Us?
The answer is simple, because of our experience, our guarantee, and our credentials.
Animal Wildlife Trappers Experience 
Animal Wildlife Trappers President, Alden Weed has over 9 years of professional experience in the area of animal removal from both residential and commercial spaces. A native Floridian, Alden is extremely knowledgeable and experienced in the state's wildlife and the disruptions and damage they can cause to home and business owners. He is also extensively educated on a number of non-native species that can enter into spaces in which they do not belong.
Alden Weed places a great deal of emphasis on maintaining the integrity of Florida's wildlife while eliminating the disruptions and safety hazards it can cause.
Animal Wildlife Trappers Guarantee
We guarantee quality, professional results achieved through safe, effective practices benefiting both our clients and the animals we apprehend. Animal Wildlife Trappers, Inc.'s work is licensed and insured.
Animal Wildlife Trappers, Inc. strictly follows to Florida Administrative Code – FAC 68A-9.010. In addition, we respectfully adhere to the Florida Fish and Wildlife Commission's prohibition of inhumane treatment of animals. We do not provide insect or pest control services, nor do we ever use poisons to control wildlife.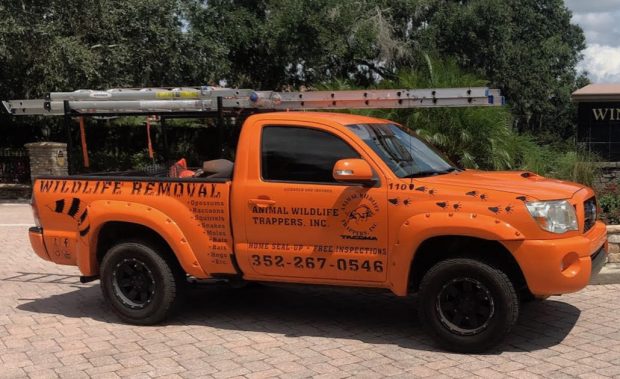 Animal Wildlife Trappers Credentials
We are a licensed and insured organization with highly experienced professionals in the area of animal trapping, removal, and the repair of damaged property caused by wildlife.
We continuously excel in our field based on a foundation and values built upon:
Providing humane, effective animal damage control services;
Continuing education on Florida's wildlife habits;
Conducting and following research within the field of animal trapping;
And advancing the efficiency and care in which we perform our job through innovative techniques and best practices.
Animal Wildlife Trappers Happy Customers
And let's not forget, most importantly – our customers LOVE US!!! Don't take our word for it – click here to hear it directly from them!
Also, click to learn more about our guarantee:

We many animal and wildlife removal services including
We service all of Central Florida including