Pocket Gopher Removal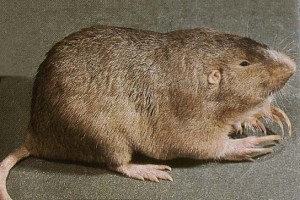 Central Florida is home to a wide variety of nuisance critters that can each exhibit destructive behavior if they manage to infiltrate your property. However, few are more invasive and destructive to residential and commercial landscaping than the gopher.
Gophers, or pocket gophers, can leave a lawn or yard completely destroyed. With their tendency to dig, they can create a system of tunnels that extend up to hundreds of feet underground. To prevent costly repairs and unsightly damage, it's important to immediately contact the gopher removal experts at Animal Wildlife Trappers as soon as you recognize the signs of a gopher infestation.
4 Signs You Have Gophers
Gophers are nocturnal rodents that resemble chubby rats. While it's uncommon to see one in action, it's not hard to notice the damage they leave in their wake. Some telltale signs you have gophers include:
Horseshoe-shaped mounds in your lawn or garden.
Barren grass and plants close to a hole or series of holes.
Dying plants or trees (since gophers eat roots and tubers).
Antsy or riled up pets.
The Importance of Expert Gopher Removal
As gophers are avid diggers, the potential for them to inflict extensive and expensive damage to your yard, garden, and home is high. In fact, gophers have been known to dig through and destroy underground utility wires, cables, and irrigation pipes. Should you notice one or more of the signs mentioned above, call the gopher removal experts at Animal Wildlife Trappers as soon as possible.
Professional Gopher Removal Services in Central Florida
If your Central Florida yard has become overrun with invasive wildlife such as gophers, then you should rely on the professional animal removal services offered by the experts at Animal Wildlife Trappers. Our experienced wildlife professionals can guarantee fast and efficient gopher removal services when removing animals from commercial and residential properties.
Animal Wildlife Trappers offers animal removal services in Orlando and nearby communities in Central Florida. We understand how it can get frustrating for you to deal with these critters on your own. In addition, it can get pretty dangerous too. Although gophers are not known to attack humans on purpose, it is still certainly a possibility. When they feel scared, they may bite as a form of self-defense. Just like other creatures in the Rodentia order, pocket gophers may be rabies carriers and they could bring with them a number of other viruses and diseases too.
We will conduct live-trapping techniques to catch pocket gophers safely and effectively remove them from your property. We can also employ a number of methods to prevent further infestation and damage to your property. While we make sure that these gophers are completely removed from your property, we will also do our best to keep them from coming back.
For professional assistance in removing gophers, we are the company to call. Aside from Orlando, we are also in Windermere, Ocoee, Lake Mary, Clermont, Apopka, and nearby cities. We offer all kinds of animal removal services. Our team of experts is extensively trained so that each critter removal method is done the most effective and safest way possible. Call Animal Wildlife Trappers today for a free quote at 352-267-0546.