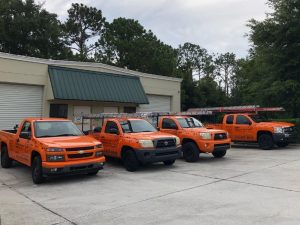 An animal issue can eat up so much of your time, but you still can't put your job, errands, and other responsibilities on hold to solve it. If you're worried about critters inside your Winter Garden residence or business, trust the staff at Animal Wildlife Trappers for professional Winter Garden animal removal services. With no cost to you, we'll come to your property for a free inspection. If we find any worrisome signs or come across live animals, we can then get started on removing and relocating them.
Squirrel Removal Services in Winter Garden
Shredding and chewing, squirrels have relentless sets of teeth. Just by looking at one of these critters, you might not be able to tell if it's carrying parasites, fleas, or diseases. At Animal Wildlife Trappers, we provide safe and effective squirrel removal services in Winter Garden, so you never have to get close enough to find out.
Winter Garden Bat Removal Services
In Florida, bats are especially tricky to tackle because of state laws that protect these critters during certain times of the year. We'll identify the type of bat in your property and find out exactly how they found a way inside. Then, we'll offer our professional feedback and help come up with a plan to legally and safely remove bats.
Financing for Your Winter Garden Wildlife Services
Worrying about the cost of animal removal services will only end up costing you more in the long run. If you think you won't be able to afford professional help, reach out to the staff at Animal Wildlife Trappers. We want to work with you and your budget. So, we'll walk you through our financing options and answer any questions you might have about our commercial and residential solutions.
Professional Animal Removal Specialists
We're here to help at Animal Wildlife Trappers whether you need emergency wildlife services or want to set up a free inspection of your property. As the leader in animal removal and trapping in Central Florida, we are fully capable of helping your home or business.
Call Animal Wildlife Trappers today at 352-267-0546 to get a free estimate.