Pigeon Removal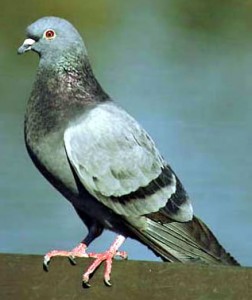 Pigeons are lovely to look at especially if you see them flocking in parks and gardens. However, when they start invading your property, you will begin to see and feel how damaging they can get. Pigeons can cause a substantial amount of damage to buildings, cars, vegetation, and a number of other surfaces. In addition, they can carry a number of diseases, which can put home and building inhabitants at risk. And of course, when a pigeon becomes trapped indoors, it can be extremely stressful not only for the bird but also for your family.
We receive plenty of calls from homeowners in Central Florida asking for assistance for pigeon removal. Truth be told, it's not as easy as catching animals on the ground such as what we do with rat removal or raccoon removal; however, our team of animal removal experts are highly trained and experienced in trapping these pigeons so they can be removed from your property.
There are many reasons you should call for pigeon removal. Among those are the following:
Their droppings can transmit histoplasmosis, salmonella, toxoplasmosis, encephalitis, among other diseases
They can carry mites, fleas, ticks, and biting lice
Their feces can produce a pungent odor
They can cause significant damage in and around your property
Expert Pigeon Removal Services
Animal Wildlife Trappers can effectively trap pigeons through an integrated set of methods in order to control the nuisances that they can cause. We can quickly trap pigeons using live-trap devices and safely remove them from your property. We give you the assurance that our processes are always the most humane ways possible. To prevent and control further issues, we will work with our clients to find ways to eliminate food and water sources, nesting opportunities, and employ exclusion techniques using netting. While pigeon infestation can be overwhelming, we are experienced in managing the problem so you don't have to do it on your own.
If you're in the Orlando, Maitland, Longwood, Winter Park, Deltona, Sanford, and surrounding areas, Animal Wildlife Trappers is the company to call for expert pigeon removal. We are also experts in other animal removal services such as bat removal, squirrel removal, snake removal, and many more. Call us at 352-267-0546 for a free estimate.