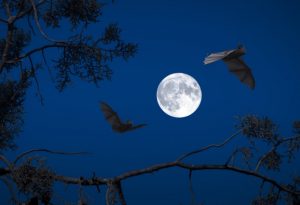 Bats are some of the most common critters you can find in the Florida area. These flying nocturnal creatures enjoy the warm weather and so this state is perfect for them. Though bats are known to take shelter in caves, they can also be found in other areas such as garages, sheds, and attics. It is very common to find bats in the attic because they like warm and mostly dark places. If you find them in your attic – do you already know what you need to do?

Bats are active at night. They probably won't stay in your attic during this time because they will be out looking for food. They will return before the sun rises. You will probably hear wings fluttering in the attic around sunset – this is the first sign of bat infestation. It's also highly probable for you not to see them in the attic right away, but if you see some bats flying around your home after the sun sets, then you might just already have a bat problem.
They're generally harmless creatures. Unlike what we see in movies, bats are not known to attack humans although it is not impossible especially when they feel threatened or they're cornered.
If you see bats in your attic, do not panic.
It is not likely for them to hurt you. However, you should still be concerned about their presence. Their urine and guano (bat droppings) may cause sicknesses and infections. Furthermore, they may cause damage to your attic area.
Call for expert Orlando bat removal services when you suspect a bat infestation in your attic.
At Animal Wildlife Trappers, we have a team of professional animal removal Orlando experts who can assist you. We use humane animal removal methods and we can also help you with attic sanitation and damage repairs. Our services are available in Windermere, Apopka, Clermont, Longwood, Winter Park, and surrounding communities. Call 352-267-0546 for a free estimate today!