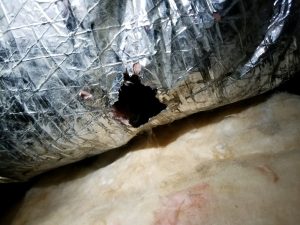 Professional animal removal contractors can help capture and remove critters found within your property. From rats to raccoons, squirrels to rats, and every other animal you may find in your home or office, just call for animal removal service and help will come right away. These critters may leave damage and a lot of dirt and filth behind. Thankfully, some contractors also offer animal damage cleanup service.
Especially when critters find their way indoors, they can wreak havoc. Unlike pets that can be domesticated and trained, wild animals don't care much what they destroy or who they can possibly hurt. It is important to clean-up very well after removing animals from your home because they can leave harmful bacteria, germs, and viruses behind.
Rat Damage Repairs
One great example is the rat. One large rat that can enter your home can cause a whole lot of damage. They can chew on wires, insulation, pipes, screens, vents, and more. Rats may leave their urine and droppings behind as well along with all the germs and viruses they carry. Without animal damage cleanup and rat damage repair services, affected areas of your home would physically unappealing, these areas may also deteriorate easily.
When you can for rat removal service, ask about damage repairs too. Animal removal companies can help you fix broken and damaged parts of your property because of invasion or infestation of critters. Furthermore, they can help prevent these critters from coming back with proper inspection and prevention methods.
Expert Animal Removal Company
If you're looking for reliable animal removal services, Animal Wildlife Trappers is the company to call. Our team of experts is extensively trained in animal and wildlife removal as well as animal damage repairs and cleanup.
We take pride in the exceptional workmanship we consistently delivery, which gained us loyal clients over the years. We keep our services excellent and our rates affordable at all times. We are available in Orlando, Sanford, Windermere, Ocoee, Lake Mary, Clermont, Apopka, and nearby areas. Call Animal Wildlife Trappers for animal removal, animal damage cleanup, attic sanitation, and more at 352-267-0546 for a free quote.