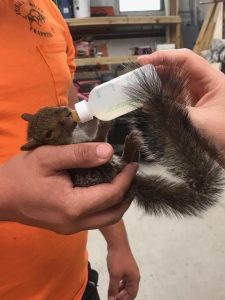 It's understandable how many homeowners get frustrated and sometimes even angry when wild animals and other pests choose to invade their home. Some would do whatever it takes to just get rid of these animals the quickest way possible. The best way to deal with them is by calling an animal removal contractor. It is important to make sure though that the contractor you're going to work with can offer humane animal removal services.
In most cases such as when animals like raccoons, squirrels, rodents, bats, birds, and others are found in your property, they must be caught then released to the wild – far away from your home so they won't come back again. Others would think that the best and quickest way to get rid of these animals is by capturing them and not really caring whether these critters get hurt or sometimes even killed. However, when you're working with a good animal removal contractor, humane animal trapping is considered a top priority. While these contractors want to make sure that your home will be free from pestering critters, they will also make sure that the animals are safe.
For instance, if you work with Animal Wildlife Trappers, you can be sure that poison won't be used to catch animals. Proper traps will be put in place so that the animals can get caught safely. You will also be given advice on how to prevent them from coming back again. If you need assistance in sealing holes and other possible entry points, we can help you with that too.
Humane animal removal is important because of many reasons. First of all, a lot of animals you may find lurking in your Orlando property could be protected by law. You can't just hurt or kill them even if they have already caused significant damage in your property. Another reason is finding a dead animal in your property is just as stressful as dealing with one that's alive and well. Imagine having a large rat poisoned and decaying beneath walls or ceilings, the stench could be so bad and may last for days. Even worse, you may have to destroy some parts of your home just to get the body of that rat and get rid of it.
When you call Animal Wildlife Trappers, you can sure that you're getting humane animal removal services no matter what kind of animal you're dealing with in your property. Our team of experts is more than happy to assist you with all your animal removal needs. Aside from Orlando, our services are also available in Deltona, Sanford, Windermere, Ocoee, Lake Mary, Clermont, Apopka, and more. Call us at 352-267-0546 for a free estimate.