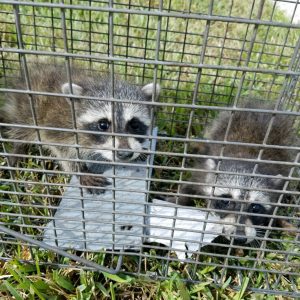 One of the most common reasons raccoons wander into Orlando homes and commercial properties is when they're looking for food. It is their natural instinct to go after the scent of potential food the moment they' get hungry. Since raccoons are primarily nocturnal, it could be challenging for people to stop them from going through trash since they usually get to work in the middle of the night. The best solution? Know how to raccoon-proof your garbage.
Of course, the first step would be to keep your surroundings clean. If you could, try to minimize the garbage you produce at home. If you do this, then the raccoons and other critters would have no reason to step into your property. Clean up and avoid leaving the garbage out at night.
It is understandable that many homeowners have no choice but to leave the garbage out. Especially when the garbage collection schedule begins before dawn, then it's best to have the trash out and ready. And who would want to keep piles of garbage indoors, right? If you have to bring out the trash, then here are some tips you can keep in mind:
Garbage can lids should be weighed down. One way to raccoon-proof garbage is by placing bricks or a heavy rock on top of the garbage lids to ensure that they would be too heavy for the raccoons to flip open.
Use high-quality durable trash cans. Raccoons have strong teeth and some of them chew through plastic garbage cans. If you should use plastic materials for your garbage cans, better choose very durable ones. You can also consider using metal trash cans when available.
Seal trash bags tightly. Raccoons can smell the scent of trash and possible food. Use double bags or seal the trash bags tightly. Make sure there are no holes on the bag too.
Consider installing motion-activated outdoor lights. Aside from the fact that outdoor lights that are triggered by motion can keep intruders away and add security to your property, these can also scare raccoons away.
If you need help to raccoon-proof your property or if the critters keep on coming back and you need raccoon removal Orlando services, Animal Wildlife Trappers is here to assist you. We are also available in Sanford, Windermere, Ocoee, Lake Mary, Clermont, Apopka, and nearby areas. Call 352-267-0546 to for consultations and to get a free quote!