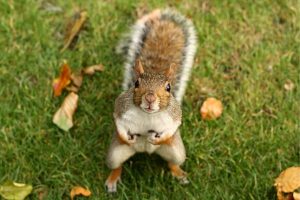 There are many different squirrel species found in Florida but generally speaking, they're these sometimes adorable-looking rodents with a bushy tail, large eyes, and a slender body. Having a go-to company for squirrel removal service is necessary because these critters are not exactly safe to have around. They may look harmless most of the time, but they can create so much damage to your property that you would regret not having called for assistance right away.
Some squirrels would rather build their nest in the great outdoors, but many of them find their way in urban and suburban areas. When this happens, they'd find a good and comfortable shelter to build a nest, sometimes in the attic, shed or garage.
There are also times when squirrels won't show themselves right away, but there are signs for you to check and see whether an infestation is about to or has already happened. So if you don't see them right away, you might think rats are invading your property because they leave similar signs of infestation – chewed up wires, insulation, pipes, and so on. They would scurry and scratch walls, ceilings, underneath floorboards, etc. Food boxes and bags may have also been touched and chewed through. These are constant chewers – they never get tired of just chewing everything that comes their way. And so, droppings and urine all around your home such as in the pantry area, attic, closets, and more are quite common.
When you are not sure what type of pest or critter you're dealing with, feel free to reach out to the experts in Animal Wildlife Trappers. We offer free animal intrusion inspection to help determine if there is actually a critter infestation. From there, we will provide recommendations on how to remove a squirrel and prevent these critters from coming back.
Orlando Squirrel Removal Service
Squirrels probably won't attack you but the damage they create around your property can get very dangerous. House fires caused by chewed up wires are not unheard of and many of them are because of squirrels. So anytime you need squirrel removal service in Orlando or any other animal removal services in the area including Maitland, Clermont, Apopka, Lake Mary, Winter Park, and more, you can call Animal Wildlife Trappers at 352-267-0546. Schedule your appointment or request a quote today!