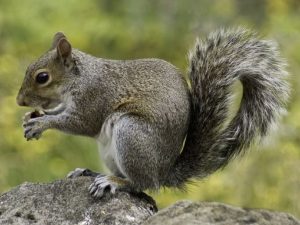 People who would say that squirrels are adorable and completely harmless probably never experienced having this critter lurking around their property. They indeed seem to be cute and even helpless at times, but these little rodents can do more than just climb trees and eat fruit and nuts. They might be tiny but they can easily chew their way into your home and cause significant damage to your roof, electrical system, and attic. How dangerous are squirrels? Though they probably won't attack you at first sight, they can cause very expensive damage.
A squirrel's diet consists mainly of fruit and berries. If you have a fruit-bearing tree in your property, they will most likely stick around. They also eat lots of veggies when available so a vegetable plot in your backyard will certainly invite these critters in. Squirrels eat a lot – other foods they consume include nuts, cheese, cereal, grains, birdseed, eggs, plant materials, insects, and more. Though these food types seem to be widely available, they're not exactly easy to find especially in urban areas where most homes do not have veggies and fruits lying around in their backyard. They aren't even as threatening as a raccoon or bobcat wandering into your property, but squirrels are dangerous in their own way.
While searching for food and a place to nest, these squirrels would chew away almost everything that comes in their way. For instance, attics are warm, dark, and quiet, which make them great nesting areas especially for pregnant squirrels. Sure, you kept windows shut and the roof seems to be intact. However, squirrels have strong teeth and they would chew roof shingles and decking. They'd go as far as chewing insulation and wires that block their way – perhaps the most dangerous thing about squirrels is how they would chew electrical wires. These wires could get weak or damaged over time. When parts of the roof and attic are damaged, rain could get in and wet these wires, which could ultimately cause house fires.
Squirrels look friendly and they deserve to be treated humanely; however, they are still wild animals. Instead of wondering how dangerous are squirrels, it is best to contact an animal removal company to help you capture them right away before they cause any costly damage. When in Orlando, Lake Mary, Clermont, Apopka, and Sanford, Animal Wildlife Trappers is the company to call for squirrel removal. Just call us at 352-267-0546 to get a free estimate!