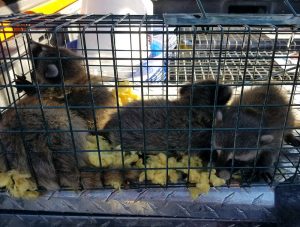 Because of their innocent look and adorable eyes, some people find raccoons very cute and even harmless. However, those who have encountered raccoons that have actually made a huge mess in their home or did a lot of damage, they can definitely say that cute isn't the right word for these critters. Truth is raccoons are considered wild animals and are not meant as pets. As much as possible, it is best to know the best ways on how to keep raccoons away from your property.
When you live in Florida, you know for a fact that critters like raccoons and squirrels are quite common. Some don't actually mind seeing one or two on their property when they know that they'll be leaving eventually anyway. However, for the sake of your safety, the community's safety, as well as the raccoon's safety, it is best to call for professional animal removal services.
One of your primary concerns, when you spot a raccoon on your property, is that this critter is a potential carrier of rabies. In fact, according to The Humane Society of the United States, raccoons join foxes, bats, and skunks, as the country's top carriers of the rabies virus. Thankfully, the Center for Disease Control and Prevention or CDC said that they have recorded only one raccoon rabies-related death in humans so far.
Raccoons can cause stress and harm not only to humans but also your domesticated pets. They can steal your pet's food, go through the garbage, and even make your attic their home. So how exactly do you keep them away?
First of all, you have to clean as you go as much as you can. Never leave leftover pet food outdoors, garbage cans that are uncovered, and other items that may attract critters like raccoons. Do a regular physical check throughout your property including the attic, garage, and crawlspaces to see whether a raccoon or any other wildlife could be hiding. If building fences around your yard isn't possible, make sure that there are no openings that would allow raccoons to enter your home. Fix holes in window and door screens too.
In the event that you find a raccoon on your property, call for raccoon removal services right away. At Animal Wildlife Trappers, we have a team of experts who can help carry out humane animal removal Orlando services. Our services are available in Deltona, Sanford, Windermere, Ocoee, Lake Mary, Clermont, Apopka, and nearby areas. Call 352-267-0546 today to get a free estimate!